Sustainable Development Goals
SDGs Initiatives
We have set forth four business challenges related to sustainability and are making company-wide efforts to address the SDGs corresponding to each of these challenges.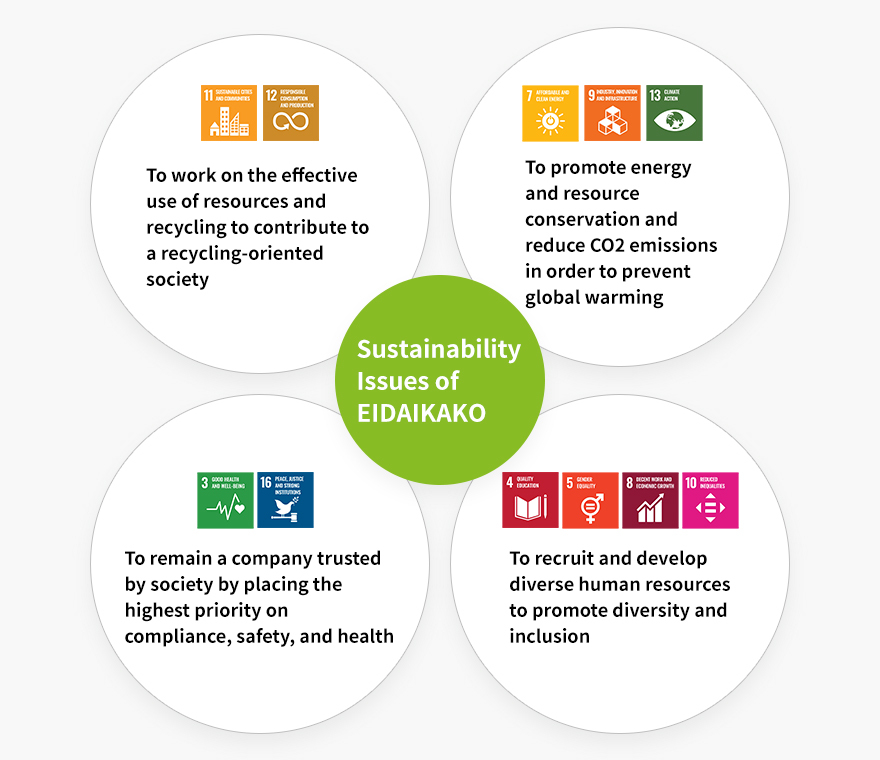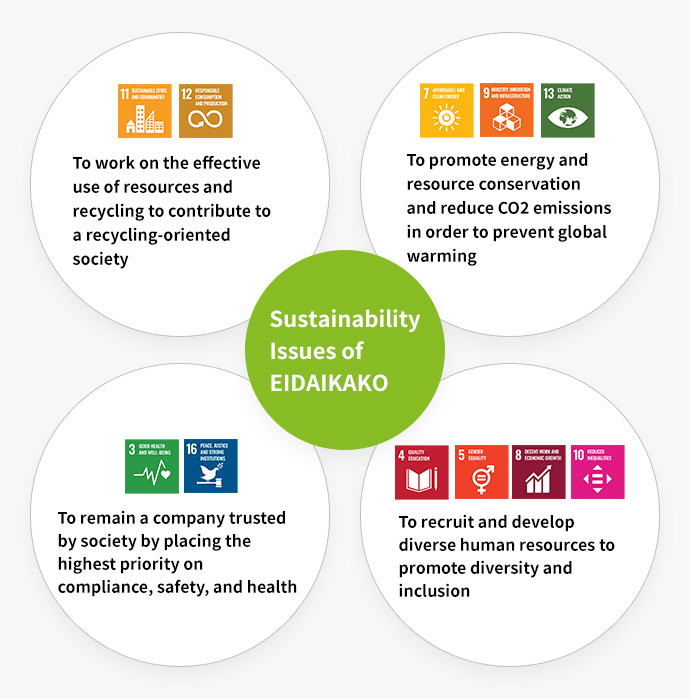 Sustainability Issues of EIDAIKAKO
To work on the effective use of resources and recycling to contribute to a recycling-oriented society

As a manufacturer specializing in the profile extrusion molding of plastics, EIDAIKAKO produces a variety of products made of plastic materials.
In order to continue sustainable production, we need to reduce the burden on the environment by efficiently using and reproducing (recycling) our resources.
As a manufacturer, we will always be conscious of the need for more effective use of limited resources and contribute to the formation of a recycling-oriented society by recycling scrap materials generated in our plants.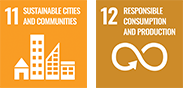 To promote energy and resource conservation and reduce CO2 emissions in order to prevent global warming

Climate change (global warming) is a major issue that affects all living things on earth.
To address this issue, we at EIDAIKAKO strive to save energy and improve the efficiency of energy used at our plants and offices. We are also actively working to reduce emissions of greenhouse gases, air pollutants, and waste, and promote recycling.
Through these activities on a daily basis, we will contribute to the creation of a sustainable, decarbonized society.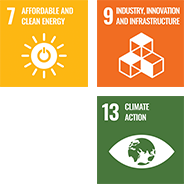 To remain a company trusted by society by placing the highest priority on compliance, safety, and health

All corporate activities are based on the confidence of society and can be sustained through trust.
At EIDAIKAKO, we have established standards of conduct to be observed in our daily business operations and are strengthening corporate governance by ensuring compliance with internal regulations, laws, social norms, and other rules and regulations.
We will continue our efforts to be a company that is trusted by society by creating an environment in which each employee can work in good health and enthusiasm, while placing the highest priority on safety and health in every situation, including our daily activities.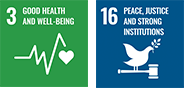 To recruit and develop diverse human resources to promote diversity and inclusion

In order to respond to changes in the market, such as the globalization of society and the diversification of customer needs, there is a need for diversity and inclusion to encourage diverse human resources to play an active role.
At EIDAIKAKO, we are making efforts to utilize diverse human resources, including women, the elderly, foreign nationals, and those engaged in childcare and nursing care—along with their diverse skills—by placing the right people in the right jobs. We will also realize a workplace environment where employees can work enthusiastically by supporting the growth of each individual and harnessing and nurturing their individual strengths as a team, thereby promoting diversity and inclusion.